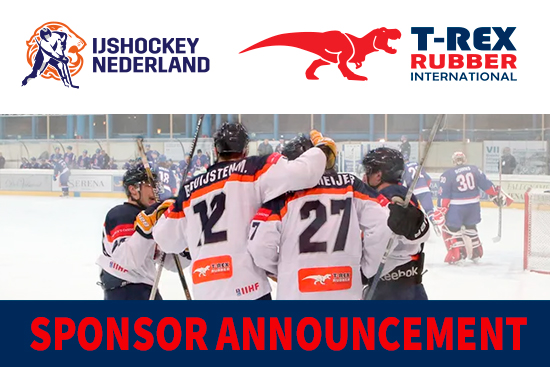 T-Rex News : Products, Projects and Solutions
March 1st, 2022
"Everything is possible when a national team gets the support they need"
As Director of T-REX Rubber Borrit Boshart is happy to sponsor the "Dutch Lions" again. "Ice hockey in Holland deserves support as well, because I am convinced that everything is possible when a national team gets the support they need".
Borrit is a huge ice hockey fan, when he is not on the road with his best friend to attend a game in Germany or anywhere else, he spends a big part of his free time to play ice hockey himself in Enschede and Nijmegen.
The Dutch National Ice Hockey Team played their last official international game in Kazakhstan in February 2020 during the Olympic Pre-Qualification Round. So it has been a while they played. In the past two years the World Championship have been cancelled by the international ice hockey federation IIHF due to the corona pandemic. The Dutch team will play the World Championship in Division II Group A in end of April 2022in Zagreb, Croatia.
Borrit Boshart looks forward to the return of international ice hockey. "It can be a great tournament for the Netherlands and we as T-Rex Rubber are proud that we can contribute to this. I also definitely intend to go to Zagreb and support the team."
The Dutch Ice Hockey Association interviewed Borrit, read the entire interview on their website (in Dutch only):
https://www.ijshockeynederland.nl/nieuws/t-rex-rubber-terug-als-sponsor-van-oranje