T-Rex News : Products, Projects and Solutions
This news section is updated periodically to provide information about T-Rex. Read all about our products, projects and solutions.
Other news
Announcement: Proud Official Sponsor of Dutch National Ice Hockey Team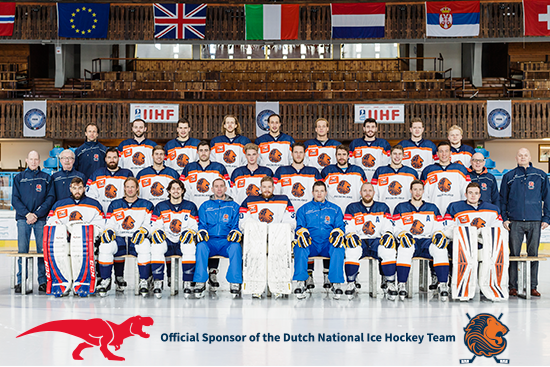 T-Rex News : Products, Projects and Solutions
January 7th, 2016
From the first of January 2016, T-Rex Rubber International is official sponsoring the National Ice Hockey Team of the Netherlands. As a Dutch company we are extremely proud of our association with our national team and we hope for sporting success in 2016. The speed, dynamism and quickness of reaction of the Ice hockey sport fits well with the reputation that T-Rex Rubber International has built up in Europe. Every time the Dutch Team plays a game, a link will be posted in the social media of T-Rex Rubber International, so every action of the "Orange Lions" can be followed.
The Dutch team will play the following matches in the first part of 2016:
WORLD CHAMPIONSHIP – Division 2A in Jaca, Spain
The winner of this Championship will be promoted to higher level, group 1B.
Saturday 09-04-2016 at 16:30 hrs
Sunday 10-04-2016 at 20:00 hrs
Tuesday 12-04-2016 at 13:00 hrs
Thursday 14-05-2016 at 13:00 hrs
Friday 15-04-2016 at 16:30 hrs
Netherlands – Serbia
Netherlands – Spain
Netherlands – Iceland
Netherlands – China
Netherlands – Belgium
Please contact our team for more information
Contact