Materiali per riparazioni
Materiale per le riparazioni rapide, il vostro cliente è pronto per la produzione!
Fourthane
Fourthane
T-REX Repair Material | Fourthane, Fast Repair System for Conveyor Belts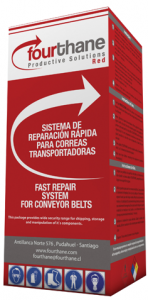 Fourthane Repair Kit RED is designed for heavy duty work, with high resistance to shearing, impact and abrasion. It allows making repairs to conveyor belts in an hour or less. It is easy to apply and has excellent adherence to the rubber.
✓ Repairs in an hour or less
✓ Easy to apply
✓ Designed to be used in the field
Applicable on:
– Longitudinal Shearing
– Splice Protection
– Repair of Edges
Available in kit of  300 gram and 750 gram
Content of Red Line kit:
Fourthane® Resin, Catalyst, Primer and Cleaning Agent
Please click here to see slideshow (PDF) how to use Fourthane Fast Repair System for Conveyor Belts or here (Youtube)
Product gallery
Please contact our team for more information
Contact